Mount. Sterling – A free and fun event hosted annually by members of Masonic Lodge 269 will take place this weekend.
"We had over 3,000 people last year. It went really well. Being our first year, we didn't know what to expect. We were blown away, "said lodge member Tom Corbin.
The free event will be available from 6 p.m. to 10 p.m. from October 29 to 30 and from 1 p.m. to 4 p.m. on October 31. The lodge is located at 54 N. London St., Mount Sterling Ohio.
Haunting occupies the first floor of the building, adults and children can visit the event as many times as they want.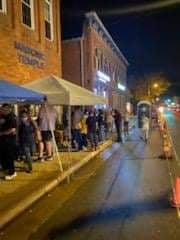 This year, a funeral procession will take to the streets of London at 6 p.m. on October 29 to kick off the festivities. It will also feature scary movies on an outdoor screen to entertain the queues.
The classic car show will also take place at the same time in the city center.
If you survive the Dread Gauntlet, you go out to a graveyard where there will be candy.
This is no small event, over 60 volunteers will occupy stations to make it one of the largest free haunted houses in the region.
Food will be on sale at low prices, hot dogs, hot chocolate, soda, water, fries and baked goods will be on sale. One of the meal deals is a hot dog, fries, and a drink for $ 2.
"It basically covers the cost of the food, that's all."
Fear is adjusted for children and compounded for adults. London Road will be closed for the event.